Family-owned and Operated Dealership - Michael's Auto Plaza in East Greenbush, NY
Michael's Auto Plaza has been serving the Capital Region for 15 years at its current location in East Greenbush. I, Michael Rubinchuk, founded my dealership on trust, integrity, and respect. My son Eugene, General Manager, and I are proud to offer these values in our sales and business practices so our customers keep coming back. We enjoy knowing our customers by name and recognize them when they come back. And new customers from Albany, Troy and East Greenbush may recognize me from our Michael's Auto Plaza commercial running on television. I don't wear my fur hat all the time, but you may see it on my head in the winter. "When the competition gives you a concussion, come see me, Mike the Russian."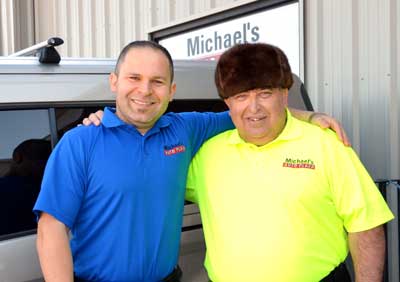 Michael, a licensed mechanic, knows and loves cars, hand-picking and driving each one before it goes on the lot. The result of this knowledge is a lot full of high quality cars, trucks and SUVs at competitive prices. If we don't have what you are looking for, let us know and we will find it. Michael's Auto Plaza also has trained technicians on-site who service what they sell. Browse our inventory on our website or stop in for the best prices and quality in the area!